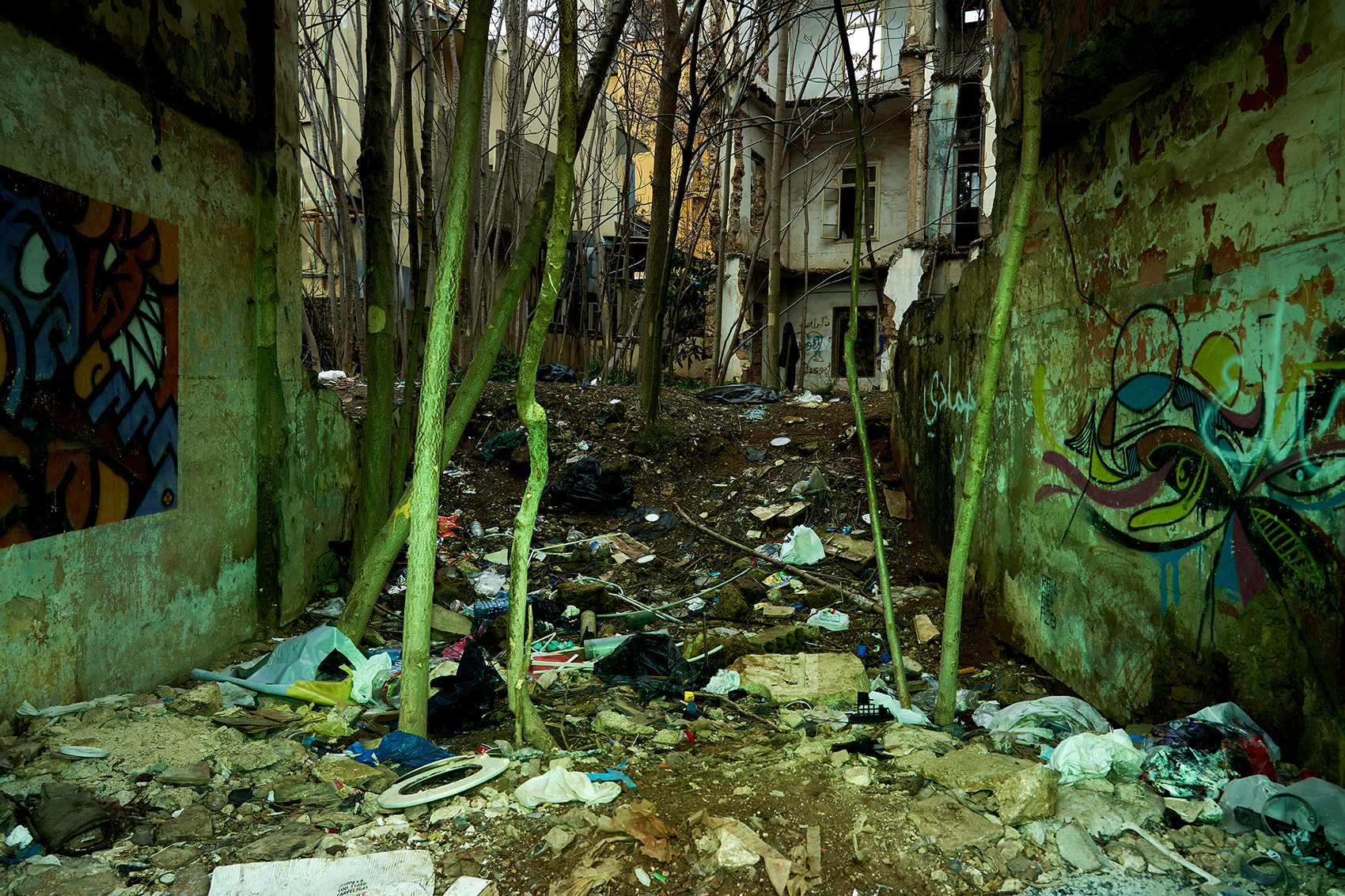 GREENHOUSE

"The Green Line was established from the 1970s until 1990 to separate the Christian and Muslim factions in East and West Beirut, respectively, became a dangerous barricade dividing the city."
It was a no man's land, which caused greenery to flourish and retrieve urban space back to nature. In the late 2010s, we can still see the scars on traditional buildings representative of Beirut during the golden age of Lebanon's history. It is gimmicky, but Beirut used to be called "Paris of the East" and "Switzerland of the East".
In 1990 the Taif Agreement put an end to the civil war. Many of these beautiful traditional houses and buildings that are now marked as "Street of Traditional Character" by the Government remain green, flourishing in vegetation and trash. Trash had replaced the corpses of the daring crossers from East to West Beirut and vice versa. But the greenery remains.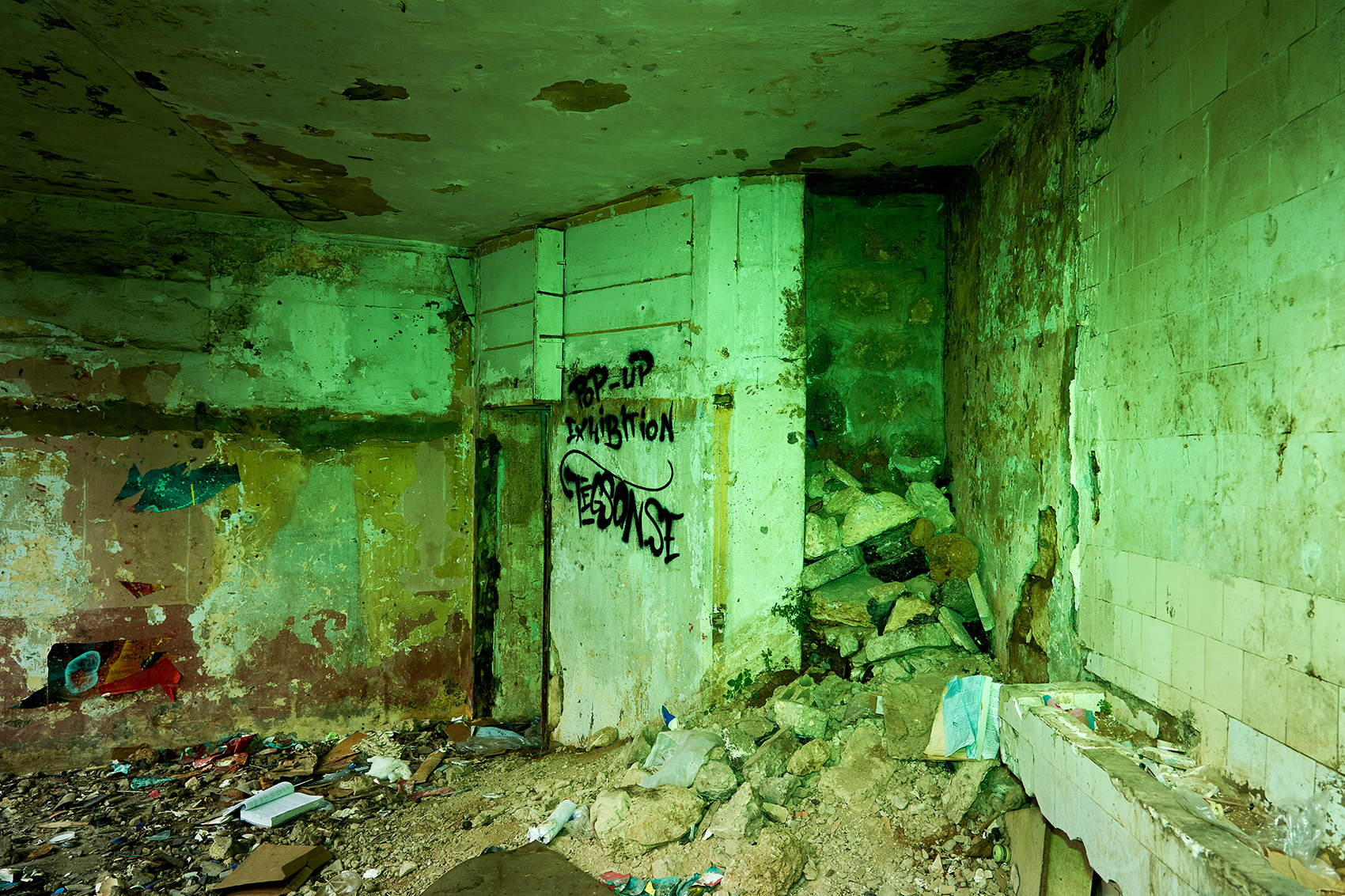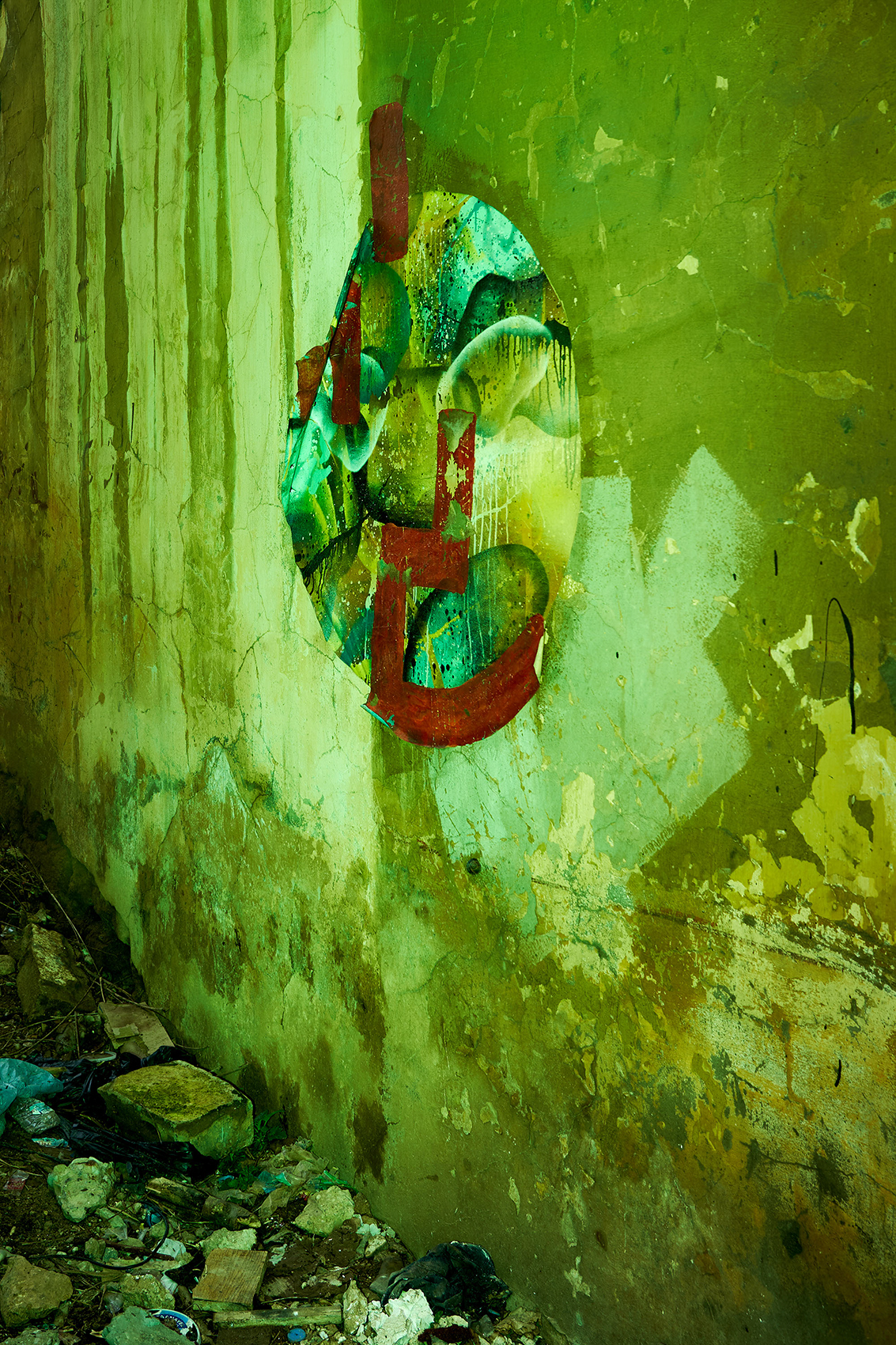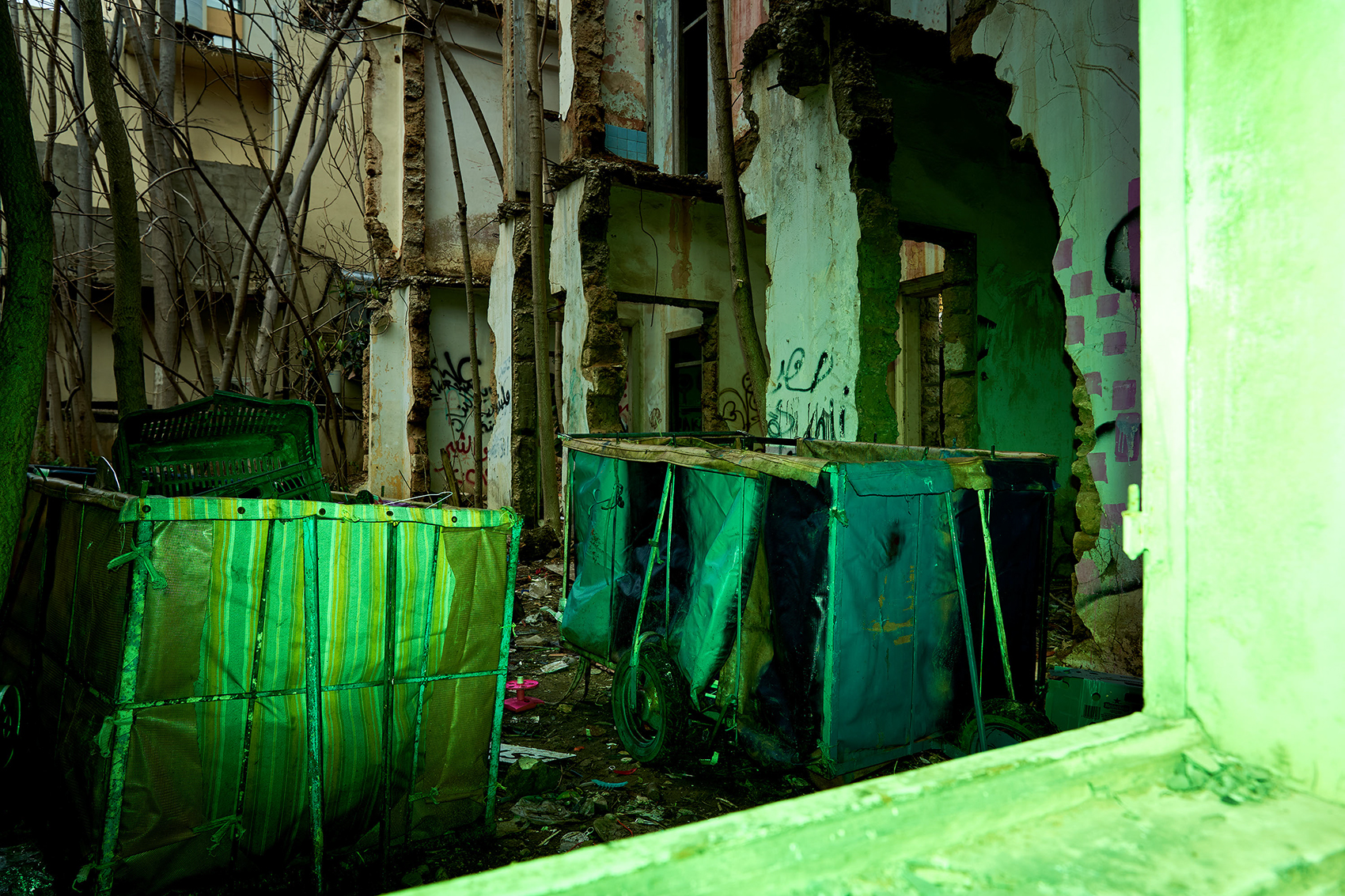 Self-employed trash collectors park their trolleys in the courts of these houses. Graffiti artists and taggers spread their artworks on its walls. Trees have grown beyond the dispersant ceiling of this house.

Nearby bars and clubs pose down empty alcohol bottles in their corners.
Lawyers had trashed any hope of 'Law Existence' on the ground of this house.

"Al Adel" or 'Justice' is a magazine issued quarterly by the Bar Association of Beirut. It includes an index which details the published subjects including: the studies of jurisprudence, commentaries on judgments issued by different courts of law, new laws and news from the Bar.
People passing by had filled the parking room with empty bottles, cigarette packs, and surprisingly a tree trunk.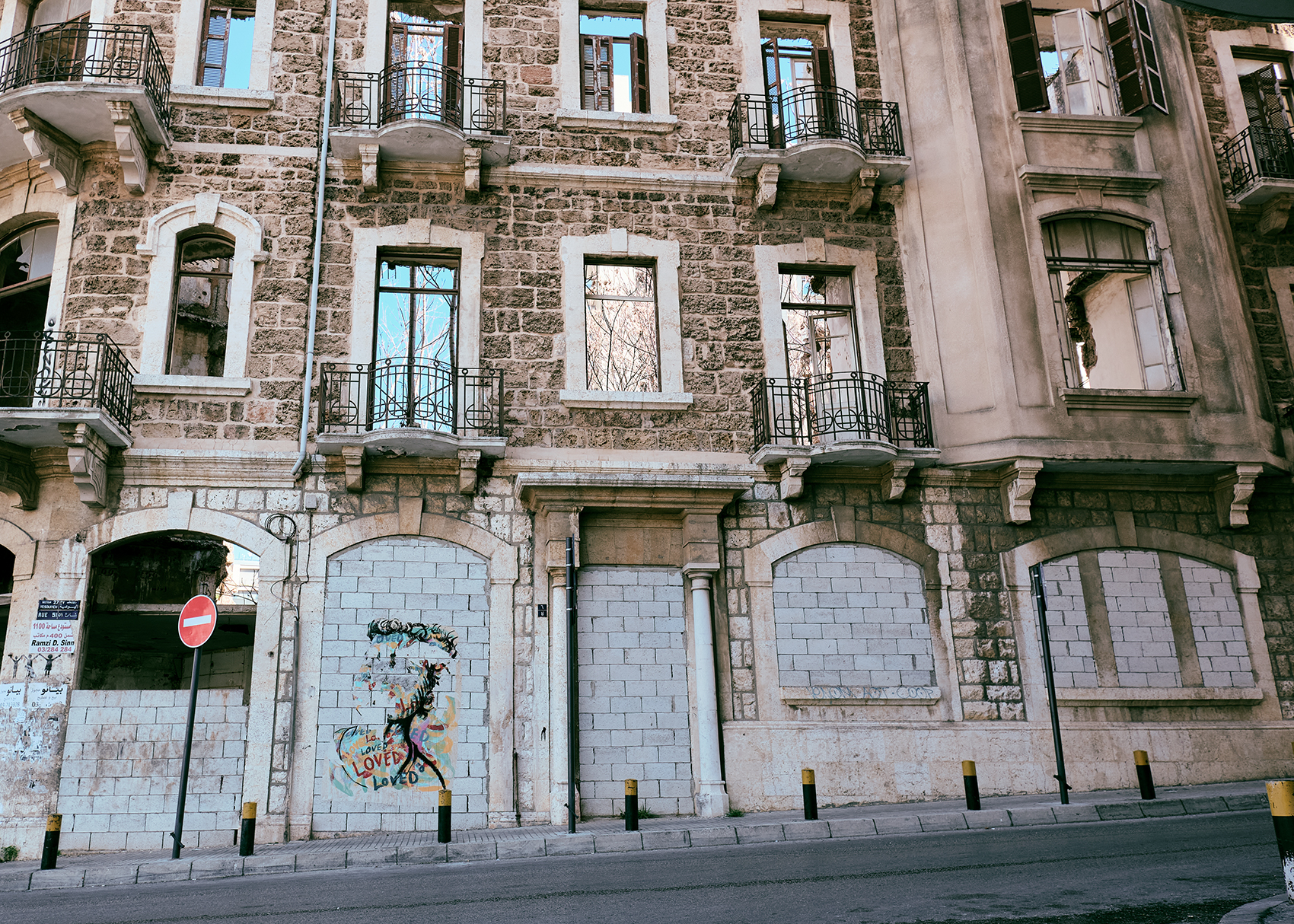 All entrances have been sealed in late 2020.
The house has been fortified after the ammonium nitrate blast of Beirut on August 4th 2020.
The use of green light, underlines the functionality of this house as an ecosystem that nurtures the trashed potential and hopes the country has once blossomed in, which I can only relate to as a fairy tale.